Experiment 11.18
ve:=6E6;
hydrogen[i].vx:=0 + (-0.5 + random)*ve; {= deuterium ion}
hydrogen[i].vy:=0+( - 0.5 + random)*ve; {< 3E6 m/s}
hydrogen[i].vz:=0 +( - 0.5 + random)*ve;
hydrogen[i].x:=0.5+ ( - 0.5 + random) /20; {so they start not in exactly the same point}
hydrogen[i].y:=0.5+ ( - 0.5 + random) /20;
hydrogen[i].z:=0.5 + ( - 0.5 + random) /20;
hydrogen[i].m:=mp;
mp=2*1.6726E-27;
intial speed <= 3E6 m/s
electron[i].vx:=0 + (-0.5 + random)*ve; {< 3E6 m/s}
electron[i].vy:=0 + (-0.5 + random)*ve;;
electron[i].vz:=0 + (-0.5 + random)*ve;
electron[i].x:=0.5+ ( - 0.5 + random) /20;
electron[i].y:=0.5+ ( - 0.5 + random) /20;
electron[i].z:=0.5+ ( - 0.5 + random) /20;
B-field = 1 tesla ( vertical)
Dimensions of the rings and spheres, see screenshot.
Voltages: +/- 100 kV
Generated 5729 electrons and 20 D+. The program did not proceed anylonger because of too many particles.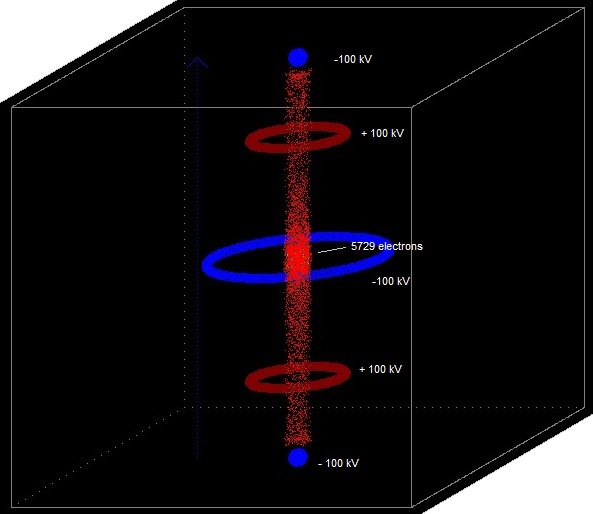 5729 electrons x 1,16E-19 C = 6,6E-16 C. If this charge would be on a sphere with a radius of 5 cm, the voltage of it would be: V = 9E9. 6,6E-16 / 0,05 = 1,2E-4 V.
This voltage is negligible compared with the voltages of the rings and the up/down spheres of the fusor device.
What can be seen is that the electrons seem to concentrate in the centrum (understandable, because they slow down there). In a real device they could perhaps form a virtual cathode and atract the D+ ions also more towards the centre.